To achieve a high product quality clean conditions play a more and more important role for laser applications.


Does it always have to be a cleanroom?

Cleanroom technology is various products and services. It's not a must to use a cleanroom in production. Because of the etymology the word "room" is the focal point of cleanroom technology. This in turn leaves a lot of companies trusting in classic cleanroom solutions for clean products and process environment. However, an important factor is constantly neglected: Consideration of one's own processes in context with the whole process chain beforehand.
Mostly some processes need a higher cleanliness and not all of the processes have to be banned into a cleanroom, which is an unfavorable option for investment and operating costs.
Technical requirements
Air purity
The air purity for a laser application is not only important for the number of particles in the air or on surfaces, but also for the composition of the particles (material) and the cleanliness of air in consideration of molecular contamination (AMC - airborne molecular contamination).
Electrostatics, EMC
All components, machines and device components should be electrostatically conductive, to reduce the influence of electrostatic discharges or influences. Suitable parts have to be chosen for the cleanroom solution.
Laser protection
The needed laser protection is realised according to class. Two points have to be considered when a higher laser safety class is needed:
1. Laser protection has to be complete and thorough. Laser protection windows need to be used, if the insight into process room has to be guaranteed. At all connections of cladding parts so called (laser-) light protection have to be used.
2. Lasers are mostly used in combination with optical systems. The optical surfaces are thus exposed to high levels of radiation. At these power levels itis possible to "crack" the residual hydrocarbons and other molecules in the air, which are then brunt onto the otpical surfaces as carbons. Regular cleaning is therefore required, although this interval can be increased with an appropriate filtration solution.
Requisite laser safety measures have to be realised according to the class of laser utilised. It
is important to note that protective laser safety foils do not offer 100% protection from laser radiation, since it is not guaranteed that these foils sever laser areas completely from the surroundings, as you can see in the image.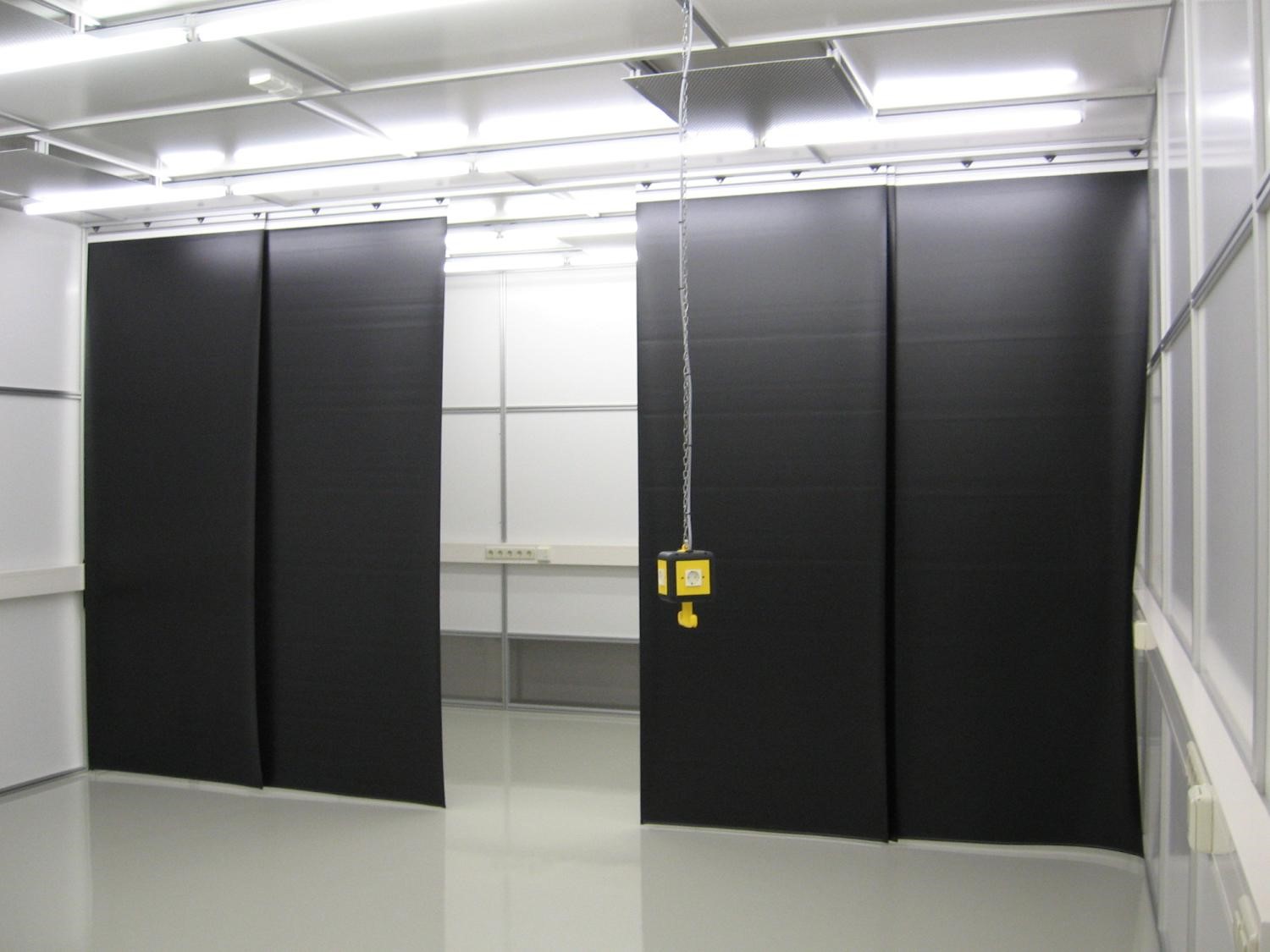 Laser protection foils don't offer 100% protection.
If the laser area is subject to a cleanliness regime, the foils have to be cleaned regularly. A sufficiently clean result is hard to achieve, as the flexible foils tend to avoid the cleaning cloth slightly.
Click here for an inquiry of analysis: