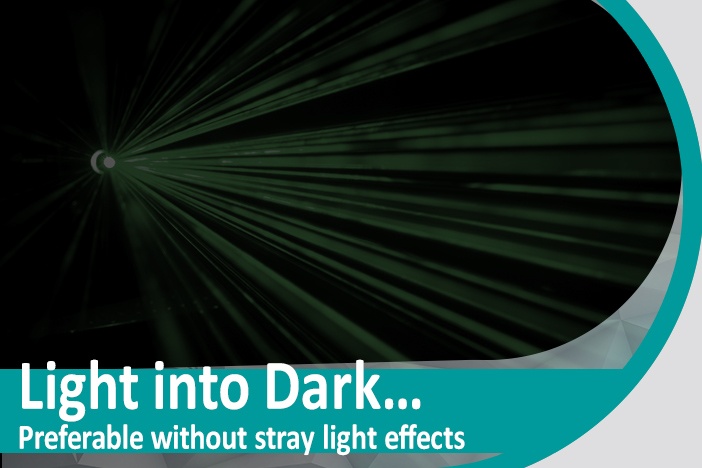 "Black labour" – that sounds like tax evasions and informal economy. But it is essential for your business. Of course we mean measuring tasks in dark cleanrooms! Because in many applications, cleanrooms must not only be free of contaminations. They have to be dark as well! In this blogpost you will learn, which technical tool supports you simply as ingeniously.
In many technologies, such as laser testing or optical testing, measuring cleanrooms must not only particle-free, but also often dark. The processes taking place in the dark cleanroom are conducted using defined light sources, to achieve optimum measuring results. Therefore, it is important to exclude stray light and reflections on surfaces.
Optical components are tested under exclusion of interfering light during quality inspection in optical production. The avoidance of interfering light during measuring is urgently necessary.
Highly sensitive star sensors of aerospace technology must be tested in optimal darkness and particle-freedom.
These were just three examples of processes where measuring environment is very relevant. To be able to guarantee an ideal measuring environment, the light within the measuring room must correspond to defined parameters. In almost every technology industry, applications are based on this principle. Dark cleanrooms with low-reflection black surfaces are therefore a standard in measurement technology. However, there are still some weak points that will lead to even better results in the future.
Weak point - white filter medium of the particulate air filter
Particulate air filters are white and it is very unlikely that anything will ever change. The numbers, which could be implemented by a different colour, newly developed filter medium, would simply be too low.
Most measurement processes are as close to the filter as possible, because there are the purest conditions. However, the white filter medium, triggered by stray light, creates a critical level of brightness that can disturb the measurement/ test process. All previous technical solutions to this problem are purchased with disadvantages such as a higher pressure loss, an elaborate channel system, worse energy efficiency, or higher servicing efforts.

A solution is a special fan-filter-module (FFU), which is completely black and also contains a black filter. By using a black laminarisator and handle protection, a reduction of the reflection by more than 90% can be achieved compared to a fan-filter-module (FFU) with white laminarisator and handle protection. As an innovative company in cleanroom technology, COLANDIS has exactly this solution in its range now.
Learn more about the trend-setting development and the problems that are resolved with it in our whitepaper "'Black labour' as cleanliness solution for optical manufacturing and laser production".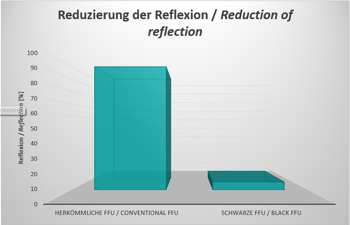 Already available today– fan-filter-module (FFU) with black case
COLANDIS has developed this solution, which is a legally protected registered design. It contains a black filter, a black frame and black handle protection. The filter medium is covered by black laminarisator. The powerful fan with Green Tech EC Technology is particularly flat at 200 millimetres. We offer this solution as a module in various equipment variants and sizes as well as a complete cleanroom with black walls, ceilings and the necessary ventilation technology. You'll see measurable success with this solution of COLANDIS. Discover more details in our datasheet – download now!